The Perfect Solution
For Waterproofing
Basecrete is the industries ONLY two step Waterproof bondcoat with exceptional adhesive qualities. Scientifically formulated, our waterproof polymer cement is also perfect concrete repairs.
For use in swimming pools, roofs, terraces, foundations, cellars, decks, etc. Adheres directly to the substrate. No primer/bondcoat required


Simple Application With A Roller, Trowel, Sprayer or Squeegee


Incomparable Flexibility and Strength For Pool Construction


Completely Resistant To Pool Chemicals & Corrosive Agents


Perfect For New Builds OR Existing Repairs

Used By The Best In The Pool Industry.
"When it comes to my custom mosaic tile creations, I ONLY TRUST BASECRETE products to protect my craftsmanship and ensure that my works stands the test of time."  Danilo Bonazza, Art & Mosaics.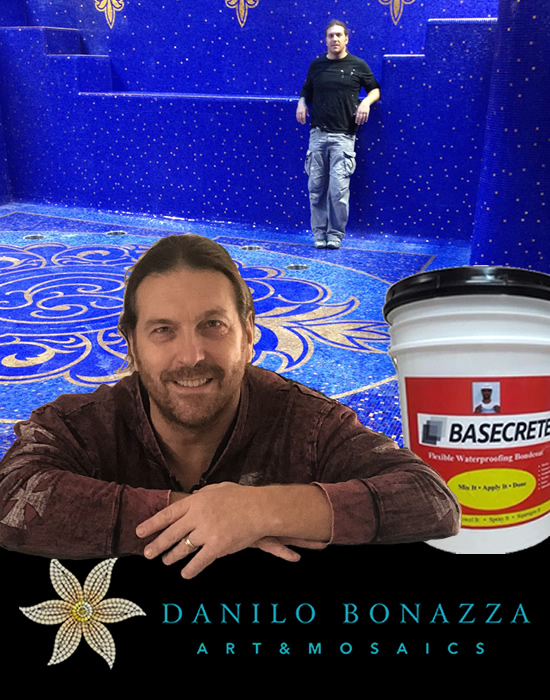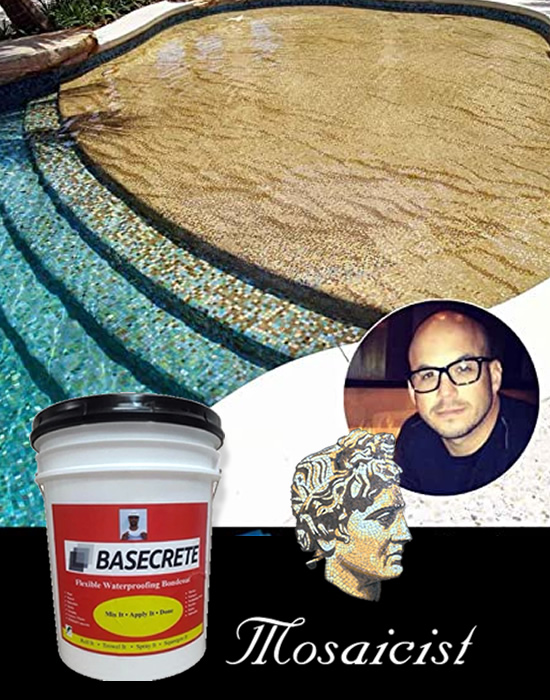 "Basecrete helps me protect my custom mosaic pool creations even in the harshest Florida sun.  Nothing compares to Basecrete when it comes to chemical resistance, waterproofing and flexibility.  I can't imagine building a pool without it."
Ray Corral of The Mosaicist.
With the fastest application and cure times in the concrete industry, Basecrete is the ultimate waterproofing solution for any concrete surface.  Not only does our product peforms better under all testing conditions, but is eco-friendly, provides an unparralleled 10 year warranty and can be customized in many colors for large scale architectural projects.
Literally, nothing compares to the capabilites, simplicity and durability of our amazing polymer concrete finishing product.
When concrete is freshly poured, the water in the concrete mixture evaporates as it dries, causing cracks known as plastic shrinking. Basecrete is an excellent material for repairing cracks in these types of concrete structures. It does not shrink upon curing, so a crack that has been filled with Basecrete will stay tight. We also protect against exposer to extreme heat or freezing temperatures. The superior adhesion of Basecrete ensures the new patch will stay put in the crack even under the most extreme weather and movement.
Basecrete is extremely versatile and can be applied by trowel, Roller (3/4" nap), Brush, Squeegee or Spray
THICKNESS
Apply Basecrete in 2 layers, one vertical and one horizontal. Each layer should be 1/16" for a total of 1/8" thickness to achieve waterproof bondcoat. Second layer can be applied as soon as first layer passes thumbnail test.
SPECIAL APPLICATIONS
Basecrete can be built up in 2" increments and feathered edge
Meet The Basecrete Family Of Products